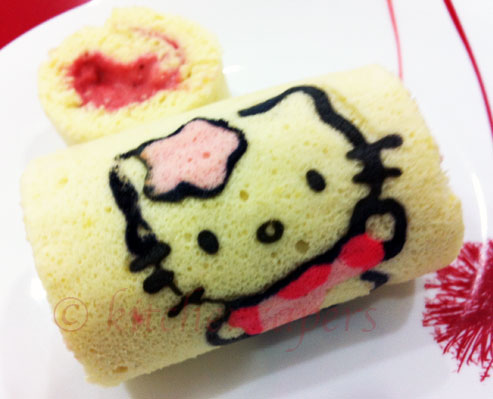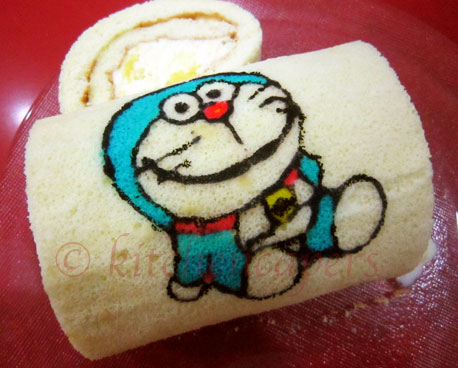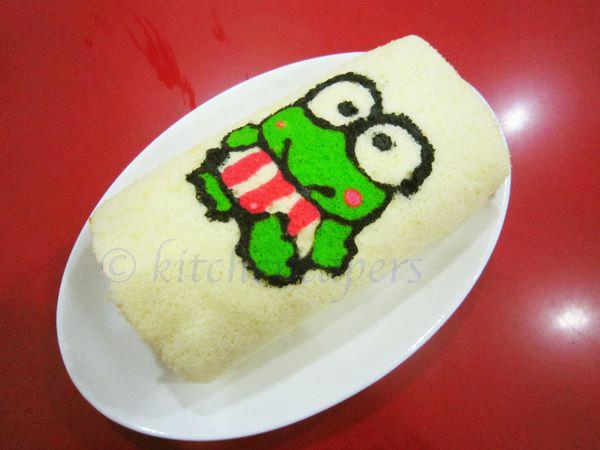 Cartoon Swiss Roll


Recipe by Gina Choong

Ingredient A
4 egg yolks
45g vegetable oil(cooking oil)
60g full cream milk
90 g Cake flour
1 tbsp Orange Paste(Pastarom)



Ingredients B


4 egg whites
90g fine sugar



Ingredients C : For painting only


20g to 40g of batter(Ingredients A and B)
1 to 2 drops of food colouring*

*if you need 5 different colours, then you need to take 10g x 5



Method:


1. In a mixing bowl, add yolks, orange paste,milk and oil to lightly whisk till evenly mixed.
2. Add flour to fold in till combined. Set aside.
3. Add egg whites and sugar in a mixer bowl and whip till it peaks.
4. Add egg batter in to fold in till its evenly mixed.
5. Scoop out 2 tbsp of the batter into 3 to 5 bowls
6. Each bowl is 2 tbsp for each colour.
7. Add colouring to mix in each bowl.
8. Add each coloured batter in a piping bag and its ready to use.




How to prepare the cartoon image:


1. Print onto A4 paper the image you want to decorate for the swiss roll.
2. You can do a multiple image like a wallpaper or a single image.
3. For a single image, the image must not be taller than 7cm.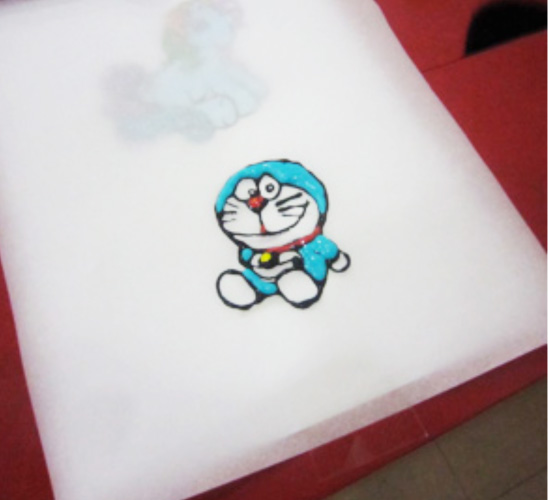 4. Try to choose images that have simple lines (for outlining)
5. Cut a baking parchment paper to fit the tray you are using.
6. Put the parchment paper over the cartoon image and trace the image with outlines first. Then fill up the rest with full colours.
7. Once done, grease the baking tray and place the parchment on it. This ensures the paper will stick to the pan and not shift/move when you move the tray.
8. Chill the tray for 10 mins.



Notes


The chilling method helps to firm the coloured pattern. So that when you pour the rest of the batter over the image, it will not smudge.



Method : Continue..


1. Preheat oven at 180C and pour the batter onto the image. Spread it out evenly using a spatula.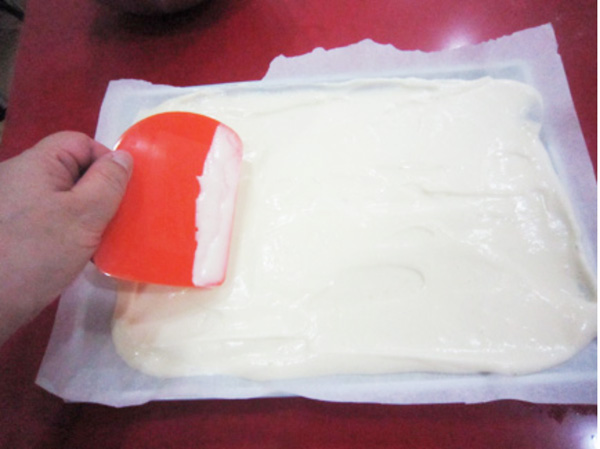 2. Baked for 15 minutes. Remove from the oven.
3. Pick up the paper from the side of the tray and overturn it on a sheet of parchment paper to cool completely.
4. Once cooled, trim off the edges with a pizza cutter or long knife.
5. Spread frosting to top, taking care not to go to the edges of the cake.
6. Starting from the bottom (nearest to you) roll up the cake and peeling away the paper.
7. Roll and tighten the roll with cream(frosting).
8. Chill before serving.

Latte Maccinato Mousse
Recipe by Gina Choong



Ingredients:


300g Dairy Whipping Cream(Anchor)
2 tbsp Latte Maccinato Paste
80g icing sugar



Method:


1. Add cream, icing sugar and paste into the mixer bowl.
2. Whip till it peaks. Chill before use.

Blueberry Cheese cake Frosting
Recipe By Gina Choong

Ingredients
250g cream cheese, soften in room temperature
100g butter(unsalted), soften in room temperature
50g blueberries
100g icing sugar

more fresh blueberries on the side



Method:


1. Blend blueberries into puree. Add sugar to mix.
2. Add cream cheese and butter into a mixer bowl to whip till creamy, then add blueberries puree.
3. Whip till peaks, chill before use.




Important Notes:





What image is the best?


Choose images that does not have too many lines to outline or draw
Try not to be too ambitious with fancy images.
Go for simple images with very little colour work so you can limit the piping
Don
_________________
Gina

The Lord is my Shepherd. I have

EVERYTHING

I need. Psalms 23:1